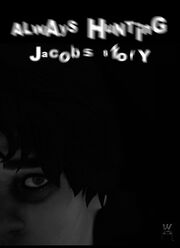 ALWAYS HUNTING - Jacob's Story
 is a game currently being developed by Walshinator Productions. The full game doesn't have a set release date as of yet, but a Prototype is set to be released sometime within the coming months.
The game puts you in the perspective of Jacob Marks, a high school student who recently lost his father in what was reported to be a brutal homicide. It is only when Jacob is called to the Police Station and a tape is uncovered with disturbing content that he suspects that there was more to the homicide than he originally thought. When he enters his father's room his suspicions are confirmed as he finds more tapes hidden in the desk.
As he watches these tapes, strange events start occurring; beings and entities, natural and supernatural, start to come for him. And the worst of them all cannot be fought or killed. Your only hope is to run and pray that you are fast enough, lest you are captured and killed, or worse.
Game information
Edit
The Prototype (with a planned 3-5 levels) is being developed in Unreal Development Kit (UDK) and gameplay style is planned to be a mix of Outlast, Amnesia: The Dark Descent, Haunted Memories, Slender: The Arrival and the Bioshock Series. The names of the confirmed levels to appear in the Prototype are as listed:
The Test
Waters of Darkness
Mysterious Temple
The full version may be developed in a custom game engine, which will allow for custom story/mod support, similarly to Amnesia's HPL 2/2.5 Engine.